Right Source Roofing & Construction recommends Owens Corning shingles in all roofing repair and replacement jobs. Why, you may ask?
Trusted Brand
Owens Corning is more than just a trusted name, they are the market leader in roofing shingles, underlayment and components products. Owens Corning roofs look better, last longer and offer more choices to perfectly fit your project.
Custom Colors
The look of a roof can have a significant impact on the overall design and perceived value of a home. After all, the roof can make up half of a home's exterior. Try our Design Your Roof Online tool to compare colors and choose your own shingles.
Warranty
Owens Corning® Roofing offers one of the best warranties in the industry. They make it easy to learn about roofing warranties, so you can find the best coverage option for your home.
Total Protection
You see a beautiful roof. We see a world of science at work. A system of highly engineered components, designed, built and tested to deliver total protection for your home. It's advanced science—for performance and beauty designed to last.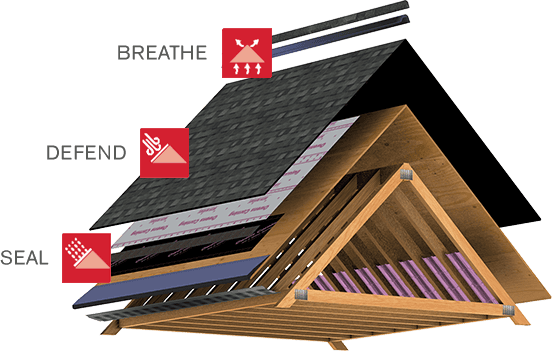 Total Protection is more than shingle deep
It takes more than shingles to protect your home. It takes an integrated system of components and layers designed to help perform in three critical areas.
SEAL Helps create a water-proof barrier
DEFEND Helps protect against nature's elements
BREATHE For balanced attic ventilation
So, when you need roof repair or roof replacement, Request a Free Estimate and let us protect your home with Owens Corning.